ERRR so i went to spencers and basically my background check still has not came back. but since the assistant manager did the interview i guess the store manager wanted to just chat with me for a little while and get a feel for me....hopfully she likes me...but anyway that kinda was dissappointing i was hopeing to just get in there and have a good ol time. and yay yay but then to have it be well yeah...but i'm going to keep my head up and possitive. but anyway i played a little...well actually i spent a few hours playing assassins creed....it's such a sexy game. repetitive yes but still a fun game.
umm today was a fun relaxing day though. after coming home and playing my game my mom came home from work and we went out for a little bit...went to the rock shop and some dollar stores and i picked up a frame finally for my Reiki Certificate...I wish i could have completed it all the way...but everything happens for a reason right?...maybe that will give me reason to come back up to PA more often to finish my classes at least....not saying friendship isn't important...but i really would like to finish my classes.
Then we went to the rock shop and i picked up about $19 worth of rocks and stuff...i picked up Septarian, Chevron Amethyst (that is the one i needed for my 3rd eye), red jasper, Iolite, and i picked up a pendulum for spirit work...i'm excited about that and alth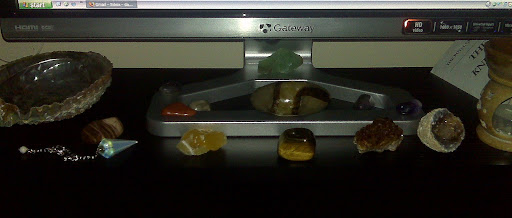 ough it has a chain with it i'm going to make one special just for it....you know personalize it. but for $7.50 for a pendulum aint bad at all...they had real stones but i don't think this one is real....but it was just so pretty...maybe later i'll replace the point but right now i'm just concerned about replacing the chain. because i think you can make it alot more geared towards what you want then the actual point....but hey it don't matter everything will work for what it's meant for. but anyway check out my collection...it's growing pretty nicely.
The really funny part is my mom actually pointed out the pendulum for me...which really shocked me to be honest....it's wierd I also had bought a book called Spirit Allies by my favorite pagan author Christopher Penczak and she was curious about that too....i'm not sure if she is interested as far as wanting to know her "guardian angel" or if she is more curius about her mom...either way it's nice that she is interested to go outside the norm of christian ways a little bit.
But anyway so far the most pain in the ass part about having this rock collection is keeping it nailed down.....so far i still don't know some of my older ones i bought lol...so yeah now i need to try and remember what is what...i'm starting to take pictures of them at the stores ahead of time so i know what is what...and in my crystal bible i'm highlighting the ones i have...though i've already messed up the one because it was spelled alike...so now i have to go get that one just because i highlighted it lol.
but yeah i think spiritually down here is going to be much better...i feel in my element compared to up in york...york has just such a bad vibration there...i can just feel the negetive energy weigh you down. AND SPEAKING OF YORK...i should have gotten my paycheck from hottopic but i havn't seen anything in my account.....i worked up till the last day...well sunday...i should have recieved a deposit in my account...which is ticking me off.
But anyway even though i miss some friends up north...this is a really good place right now in my life...i just need that job to come through and i'll be a very content boy. Spiritually i just feel that i'm there I'm complete to a certain exent...i know i need to go further. but i'm at piece right now. i don't feel demons are plagueing me anymore
I can't think of what to write. I can't think of what to write. I can't think of what to write. I can't think of what to write. I can't think of what to write. I can't think of what to write. I can't think of what to write. I can't think of what to write. I can't think of what to write. I can't think of what to write. I can't think of what to write. I can't think of what to Write.
Oh yeah tomarrow my mom is actually going to perform some reflexology on me..so i'll have to let everyone know how that goes...and because she is a Reiki 2 as well then she will also be doing that as well becasue Reiki is an automatic thing...if i need the healing it comes to me naturally.....and hopefully will clear some blockages up on me...cause i know i need it....but yeah anyway i'll give you guys an update on that then tomarrow night.
I think i'm going to Meditate.....cause i really do need to get into a habit of doing it each night....and if i have time...since my meditating takes about a half an hour and it's already 11:15 i'll put some stuff down in my book. I also want to get starting my Book of Shadows...and i think i know what i need to do...i need to get one of those leather journals...but first find a 3ring binder that can roughly fit into one of those and make my book of shadows becasue thats something i really would like to do....the company that made my journal does have 3 ring binders for like $140 or something like that but i have to choose black because the way he makes them the back is black so it kinda sux like that.....so i need to pick something that looks good on
black....and i'd love to have the one i have in a 3 ring binder but that covers the whole thing front and back...and because of that the 3 ring binder the world tree would be cut in half because nothing is allowed on the back.....so yeah kinda sucky...but it is the only leather bound 3 ring binder i've come across that looks worthy to be a book of shadows....lol then again i do know there is this one company that makes them really really beautiful like something you'd see out of a fantasy book....but alas i'm going to be paying a couple grand for one...i'll see if i can't find one and post a picture up on here. Actually this one is on sale for only $399.00 so wow...that might actually be tempting to do in the long run...hehe i might be saving up for this bad boy...anyway you can find these books at
Brahm's Bookworks
...check them out...i'm going to email them and ask about getting my book binded by them for my own personalness.
anyway i think i'm done for tonight
This entry was posted on Jul 11, 2008 at Friday, July 11, 2008 . You can follow any responses to this entry through the
comments feed
.