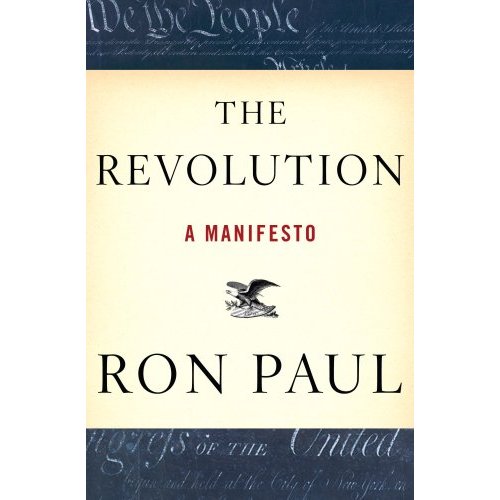 went a little crazy on the books this paycheck...and i think more is to come.

I bought Ron Paul's book The Revolution. I mainly got it because well some people are stupid and won't wake up to certain things if it's not a "reliable source" what ever that means really now a days. but i am also a fan of Ron Paul and want to support him in any way i can.




Then I Bought The Alchemist again. I had a copy technically still do but i let someone borrow to read and i know they won't have time to read it for a awhile and i think it's a book that everyone should read at least once so i bought another copy so they can keep the other copy. Thats what i'd always like to do cause i'm not a real fan of letting people borrow stuff....i mean if it's something that i want them to read it must be good. so if possible i like to actually buy the book so they can actually sit down and read it and let it sink in...and also to go back to for reference.










Then the other Book that i've been wanting to get i just never have gotten it was 1984. well i'm also a hard cover fan. can't stand soft since i like to keep my books around for a long time after for referencing and also i plan to in the future (if we stand up and stop the government from enslaving us) to have a library in my house...thats kind of my dream. but anyway they had 1984 but only in 2 versions and both had animal farm and 1984 in one book...though one was soft and one was hard. so i of course went with the hardbound one.



Now the next book on my list is Brave New World by Aldous Huxley. since it's kinda like 1984 and also the fact that it's prolly one of my favorite Covenant songs.


but anyway thats all i got for today....err going to get ready to start packing pretty soon.
This entry was posted on May 25, 2008 at Sunday, May 25, 2008 . You can follow any responses to this entry through the
comments feed
.